High performance Course
Leiderschap. Teambuilding. Gezond presteren.
Voor wie?
Ambitieuze teams met young professionals (6 tot 12 personen) die willen werken aan leiderschap, gezond presteren en samenwerking. 
Wat haal je eruit?
De beste teambuilding die er is. Het team leert effectief samen te werken, te communiceren en eigenaarschap te pakken op hetgeen dat zij willen. Daarnaast creëert het team ervaringen waar nog lang over nagepraat zal worden.
Onze belofte
Teams die aan de High Performance Course hebben deelgenomen zijn hechter, gemotiveerder en effectiever.  
intrinsieke groei
In dit programma leer je dat verder kunt komen dan je zelf soms denkt. Niet omdat het moet, maar omdat je het wil.
Hij ging je voor!
"Een verfrissend en uniek concept die zeer interessant is voor een ieder! Je boekt vooruitgang in je mindset, gedrag, uithoudingsvermogen en in zijn geheel als mens. Zeer zeker aan te raden!"
Milad | Teamlead, The Next Label
MEER WETEN?
Ben jij benieuwd naar de mogelijkheden?
Wil je alvast een kleine preview?
12 weken lang werken aan het team én de individu!
Het Team:
Het is van belang dat je weet bij wie je kan zijn voor vragen of samenwerkingen, maar durf jij deze vragen wel te stellen?
Optimaal presteren binnen een team is ook vrijheid en vertrouwen geven én nemen.
De Individu:
Je kan wel eens ergens tegenaan lopen. Wij gaan met ieder lid van het team in gesprek en zoeken naar inzichten die jou als persoon én als teamspeler kunnen helpen.
Onze High Performance Course bestaat uit teambuilding én een individuele aanpak. Wanneer collega's namelijk 1-op-1 geholpen kunnen worden met hun persoonlijke doelen, zullen zij ontvankelijker zijn voor het samenwerken en veranderen als team. Zo vang je twee vliegen in één klap!
Wij hebben de High Performance Course gegeven bij The Next Label en zij schreven een blogpost over hun ervaringen! Zonder dat wij het wisten, verscheen dit ineens online. Lees hem hieronder.
Zie hieronder hoe onze 12 wekelijkse cursus eruit ziet.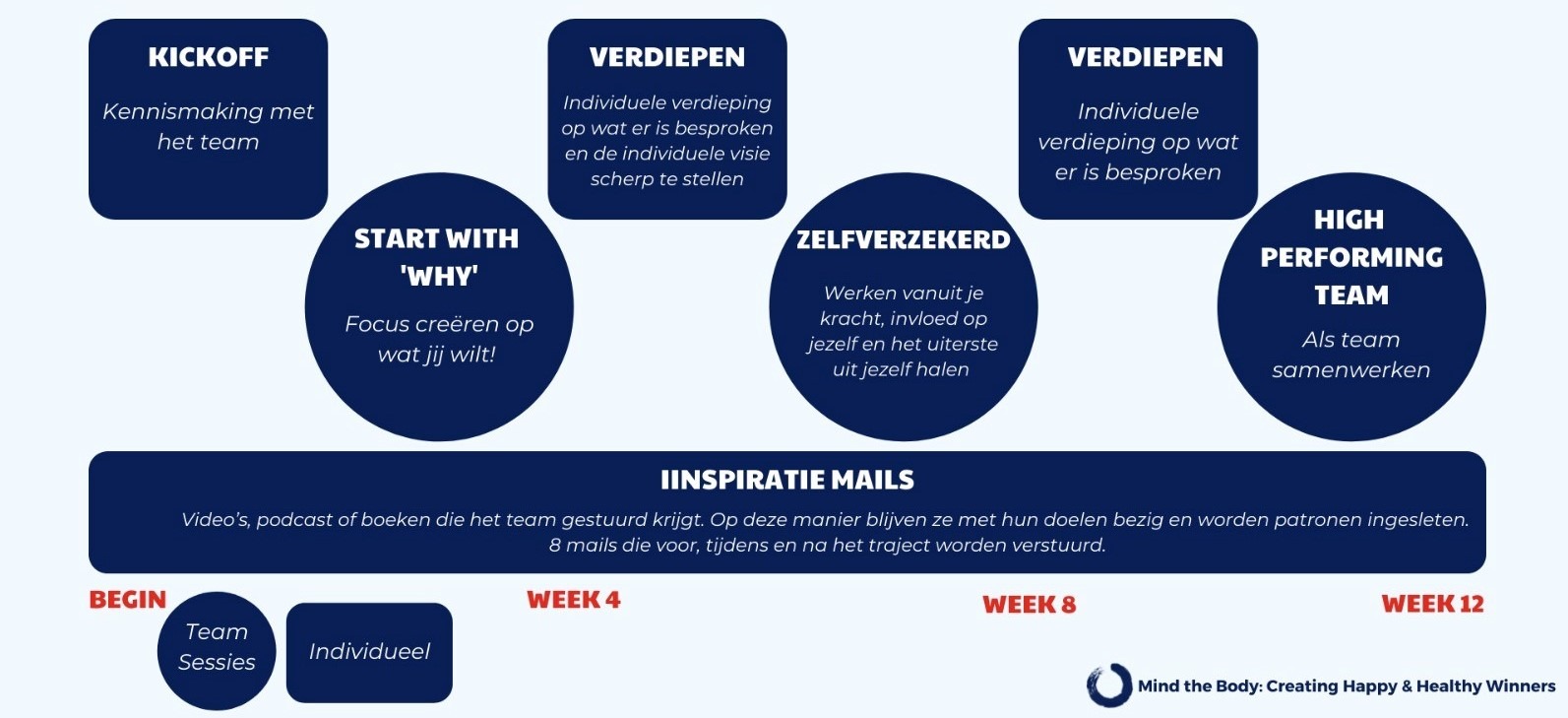 Wij zien een wereld voor ons waarin mensen zichzelf en de ander op de eerste plek zetten.
Want dan is iedereen aan het winnen!
Hoi! Ik ben Rick!
Benieuwd naar een samenwerking of heb je gewoon een vraag?
Stuur mij dan een berichtje!